About Dr Dhiraj Marothi
Dr Dhiraj Marothi, who has done more than 10,000 joint replacement surgeries, was born and brought up in a small village called Nokha, near BIKANER.
Education
A hard working student, after high school, he started his medical education at Sardar Patel Medical College, Bikaner. After graduation he specialised in orthopaedics and focussed on Joint Replacement Surgery. His advanced training include :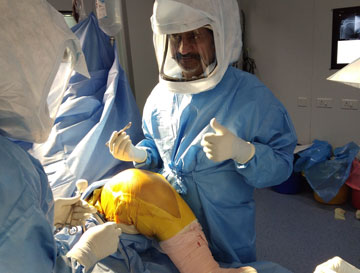 Clinical Fellowship: Knee Reconstructive Surgery, Lenox Hill Hospital, NYC, USA under world renowned Arthroplasty surgeon Dr C. S. Ranawat, MD. [Dr Ranawat is a pioneer joint replacement surgeon and is considered the 'Father of Total Knee Replacement Surgery'].
Super specialization: Magister Chirurgiae [Written as 'MCh', it is considered to be the highest qualification in joint replacement] from Dundee University, Scotland, UK.
Hospitals
Dr Dhiraj Marothi currently Heads the Department of Orthopaedics & Joint Replacement Surgery at Asian Bariatrics Hospital
He is a Visiting Surgeon at
SGVP Hospital, Ahmedabad
Rajasthan hospital, Ahmedabad
RBH CK Birla group of hospitals, Jaipur
He is a visiting Senior Lecturer at
University of Dundee, UK
Minimal Protocol TKR
Over the past two decades by following the best surgical practices and innovating, Dr Marothi has developed a special protocol to do total knee replacement surgery in a very short time. This offers many advantages to the patient. Called the 'Minimal Protocol TKR', this total knee replacement surgery is done quickly, safely and the patient can walk very soon after the operation. After a few months the patient can resume nearly all his/her activities.
Key points of Minimal Protocol TKR*:
Minimal time – key steps of the surgery are completed in less than 20 minutes
Minimal bone removal
Minimal tubes - No drains or catheters are attached on the patient after surgery
Minimal marks - surgical wound is sutured from inside
Minimal Recovery time - patients can stand up soon after the surgery
Minimal need for revision - Minimal Protocol Surgery lasts for 30+ years, so revision surgery may not be required. [Revision surgery is done when the artificial joint wears out].
Minimal possibility of infection - Dedicated operation theatre for joint replacements
Minimal post-operative change in life - Patients can easily sit cross legged
*The exact details will vary from case to case.
The key point in Minimal Protocol TKR is however its gradual but dynamic and everchanging nature.As newer technologies and material come into use, Dr Marothi is quick to modify his techniques for further improvement.
Charitable Work
Dr Dhiraj Marothi believes in helping the needy. He has served in hundreds of 'Free Check Up' charitable medical camps all over the country and helped more than 15,000 patients.