Nonagenarian undergoes Knee Replacement Surgery
A 92-yr-old male with serious medical ailments gets the knee replaced at Asian Bariatric Hospital, Ahmedabad on 4th September 2018.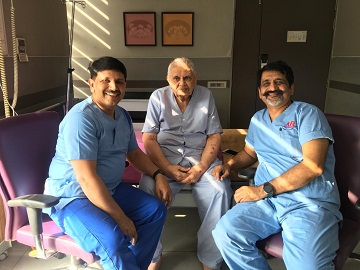 The zeal to live a pain-free life is what made 92-year-old patient from Ahmedabad undergo a high-risk knee replacement surgery at Asian Bariatrics Hospital, Ahmedabad recently.But performing this surgery with the patient's heart function of only 10-15% was a tough task to achieve.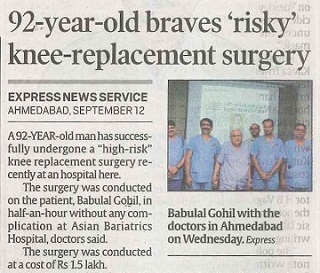 Since the team of Anaesthesiologists headed by Dr. Yogesh Tank in association with Dr. Shivani Kakroo has been rendering their anesthesia services for Bariatrics patients with serious medical ailments like decreased cardiac and lung functions, they decided to extend their service for knee replacement in this patient under general anesthesia which otherwise is done under spinal anesthesia. But since the patient had a serious cardiac condition, they opted for general anesthesia as the stability is more when the patient is under general anesthesia.